---
---
---
Microsoft Support
---

650 - The computer you have dialed does not respond to a network request (win98)
--- Set data bits to 7 instead of 8
--- Set parity to even instead of none

---
Error 650: The Remote Access Server is not responding
Microsoft Web Site
---
Error 650 during installation or "Error occurred in the windows remote access software" with Windows 98.
---
Simple Solutions:
1. Plug Modem directly into wall jack. Do NOT Plug into caller id box, answering machine, or other phone device.
2. Try a different phone jack in the house. If you have two phone lines, try the second phone line.
---

Do a USR LINE TEST. In Hyper terminal, Dial 1-847-262-6000
Graphics = Yes
First Name = LINE
Last Name = TEST
Line Noise Test Instructions are Here
56k technology is not possible on this connection or is highly impaired. Since line conditions can change from call to call, recommend to make several calls to test system to have accurate diagnosis. If you have multiple phone lines, try calling from each line. 56K failures are caused by analog to digital conversions in local phone lines.
---

Is your modem 56K?
Disable 56K with one of the strings below:
How to Edit Init String
+MS=11,1 (Rockwell Chipset)
S32=98 (X2 Based Modems)
S32=66 (Disable V90 but X2 enabled)
-V90=0 (LT Win Modems)
+MS=V34 (For Rockwell HCF chips)
How to Disable 56K

---

Windows 95 Only- Microsoft Dial Up Networking Patch has been installed (Look at Add/Remove Programs) msdun11.exe, msdun12.exe or msdun13.exe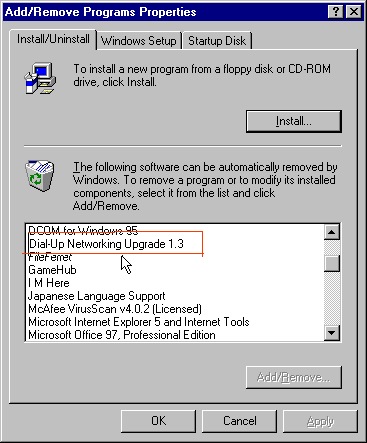 ---

Check TCP/IP settings and DUN connectoid properties and verify if that all is correct.

---

This issue can also occur if the Telephon.ini file is missing or damaged.
Solution:
To resolve this issue, follow these steps:
1.Click Start, point to Find, and then click Files Or Folders.
2.In the Named box, type "telephon.ini" (without quotation marks), and then click find now.
3.If you do not find the Telephon.ini file, skip to step 4. If you do find the Telephon.ini file, right-click it, click Rename, type "telephon.old" (without quotation marks), and then press ENTER.
4.Quit the Find tool, click Start, click Run, type "tapiini.exe" (without quotation marks), and then press ENTER.
5.Restart your computer.

---

Try adding 4 commas to the end of the number. This works sometimes because when connecting to an 56k pop their will usually be a beep noise that affects the modem, the 4 commas puts the modem in a pause state and will ignore the beep. Note: This solution may help, but will get connected at a very slow speed.

---

Download the newest drivers from modem vendor.

---

Refer to Microsoft Support Online Article Q192420

---

SUPRA MODEM users:

Solution: Check ATI3 Responses. If software revision is below V2.1.1.110,
customer can obtain newest drivers from www.diamondmm.com

(The newest modem driver is 95_2260_136.exe for Supra Modems)

---